So it happened. Today, sometime around midday, Elon Musk de-Verified all but four people on Twitter. Ice-T; Stephen King; William Shatner; and LeBron James.
There are a lot of things I could say about this. Most of them, they're thoughts that have to be expressed; but, overall, I wouldn't say that the thoughts themselves have any particular value. Rather, their meaning stems from the emotional relief I get from uttering them.
So let's get those done and over with, first.
Jesus fucking Christ, at least all the dead people are finally de-Verified. Richard Pryor; Marilyn Monroe; Albert Einstein; Michael Jackson; that guy from the Fast and Furious movies.
At least all the fictional characters are finally de-Verified. (thinking about Real_BlackNoir.)
ALL THE PEOPLE WHO BULLIED ME ON THERE ARE NOW DE-VERIFIED. LOL
It's the end of an era. I don't know how to feel about this all.
As it's no longer possible to get Verified on Twitter, my game is over.
AT LEAST THAT FUCKING COFFEE CUP IS FINALLY DE-VERIFIED
---
wELL. tECHNICALLy, my Win Conditions have been fulfilled. What were those, pray-tell?
Get Verified on YouTube, Instagram, Twitter, Facebook. That is to say, any 1 out of the 4 would complete the game.
It is now impossible to get Verified on Instagram, Twitter, and Facebook.
And I'm Verified on YouTube.
OH YEAH BABY! WINNING LUIGI-STYLE
To be honest, though, it wasn't winning like 'Luigi'. It was winning like 'finding the one loophole that gets me Verified as a musician, just like Cher, by publishing at least one musical track.' The good ol' Twitter-a-roo.
Is it less 'legitimate' than being Verified by getting 100,000 subs?
Truth be told, I don't give a shit.
---
And what of the Muppets?
Elmo got de-Verified earlier today. I'm assuming Big Bird did, too.
Why?
What the fuck are you doing, hairpiece?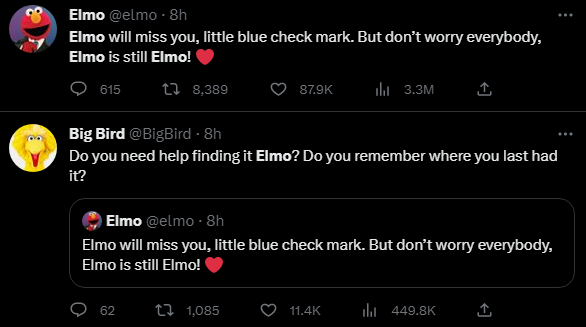 What is the fucking purpose
of de-Verifying a muppet
Also, Tony la Russa, the man who's responsible for Twitter coming up with checkmarks in the first fuckin' place, is still Verified on Twitter.
Probably so he doesn't sue them into the ground, again.
This place is stupid.