It is happening again.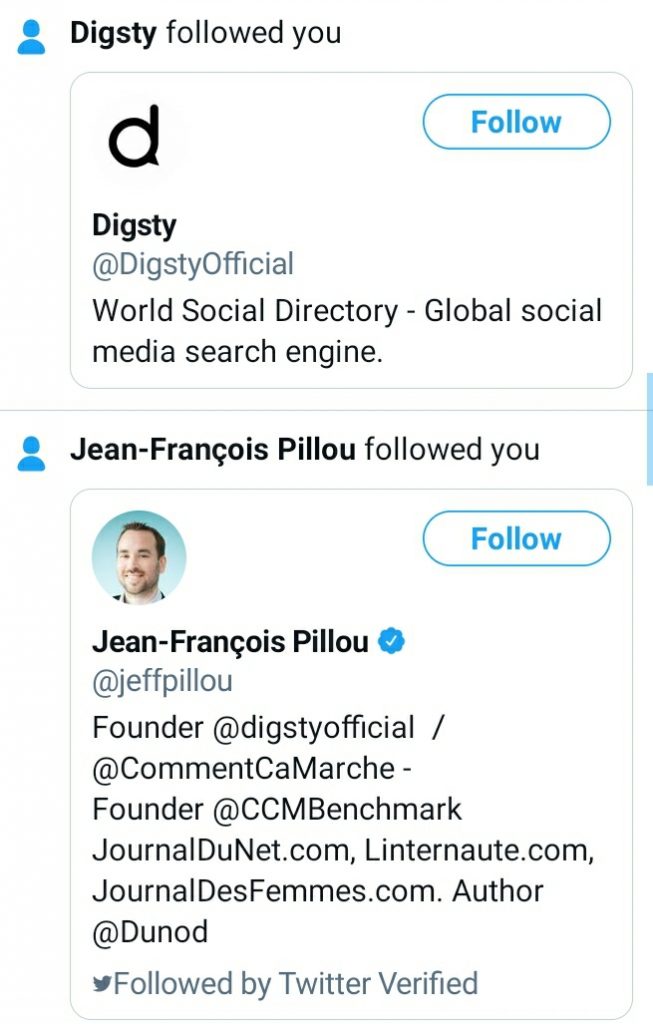 Woke up this morning. This is the first thing I see.
Now, the idea that they're Verified, it gives me hope. Because, hey. If them, then me.
Seeing this, however, I know a couple of things:
They either saw my post complaining, or, they also read my article. Initially, I was filled with fear: oh no!! I'm getting sued!! Then I remembered. Hey, nevermind. Lol. 😛
I MUST BE VERIFIED ON DIGSTY AGAIN.
LET'S LOOK AND SEE.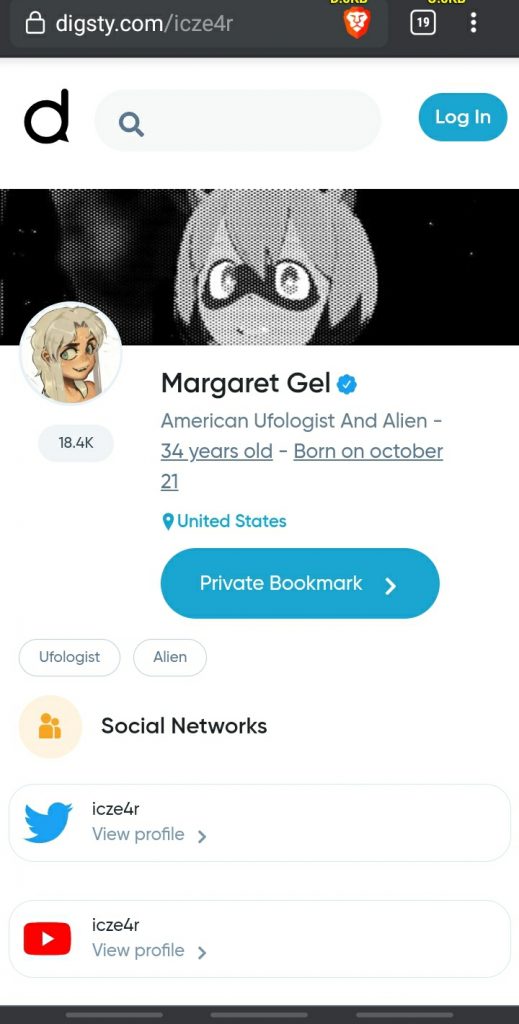 Oh, gorgeous. It's gibberish. Just, pure fucking bloody gibberish.
Well, alright. Let's see what I can do with th—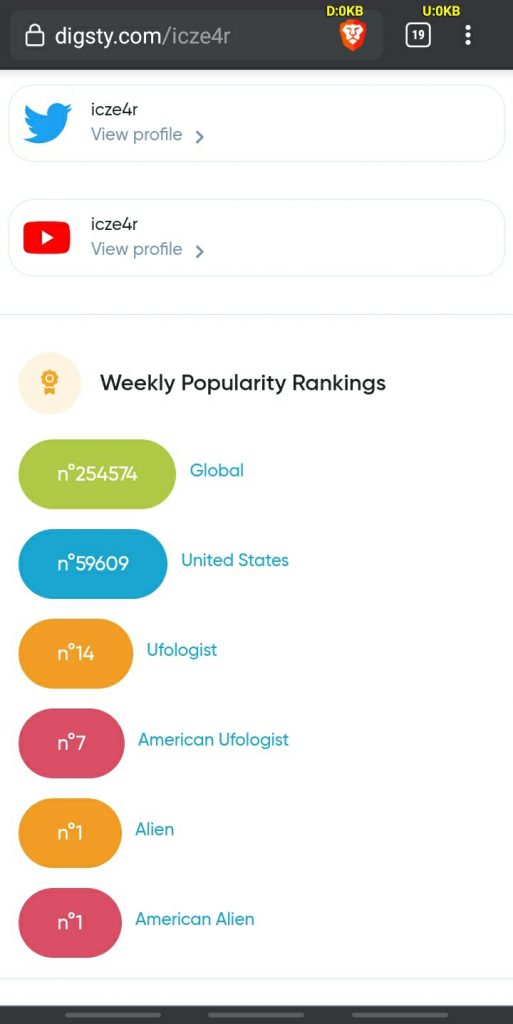 NUMBER ONE ALIEN
TOP OF THE FUCKING POPS, DADDIO
This is really stupid. If they mean well, then that's one thing. I don't… I just don't think that making a website where you give people checkmarks arbitrarily, is actually a great idea. Because then, it doesn't mean anything.
turns and looks at every other fucking website
OH WOW LOOK AT THAT, they no longer allow you to hide your profile from search engines. That option has been steathily removed from the… options, page. (It's actually called Settings.)
WELL THEN!
VERIFIED AGAINST MY FUCKING WILL
This REALLY creeps me out. But, whatever. I'll live.
UPDATE: they DID read my post! I burst out laughing. Holy shit.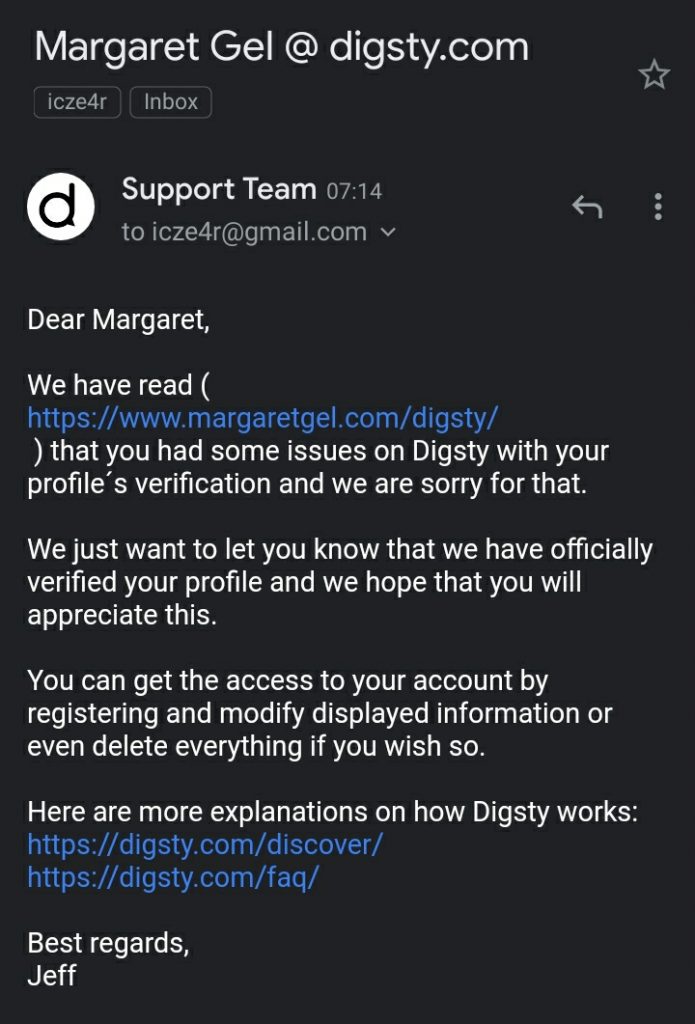 The thing about this website, is, they want to pretend like it is something useful to you. But, if my profile was verified before with erroneous information, then, I'm willing to bet it's happened at least one other time.
People do this a lot: they take information from somewhere else, repurpose it so that it's useful to them… but, I don't often see them pretending that this is useful to the person whose information they used. Again, I don't wanna be a dick; it's just kind of disingenuous to say that you're helping me when you're really not.
Lots of people have made databases and directories of people on Twitter. Most of the time, I think that it was because they were trying to make some sort of web empire, where they could use all of this aggregated information towards one end or another. I don't know what this website's ultimate goal is, but, it feels kind of like how people used to make Facebook accounts for other people. And would say that they're helping that person. You weren't then and you aren't now.
I still feel kind of creeped out by it. Not sure why.
In any case, I am the number one alien on this website.
I knew that they had read the other post because, the profile was made under my nickname: icze4r. So, when I saw that they had followed my 'professional' account, MargaretGel, on Twitter, I knew that was on purpose. Not just automated tomfoolery.
Hey, Digsty guy? You really want to help me??
Then get me Verified on Instagram, YouTube, or Twitter. Hell, I'll even take Pinterest or Facebook.
That way, at least I can fuck off, afterwards.