A while back, I decided to spend something like $10 on the domain Ryoko.love. This got me 10 years, at the time. Up to the year 2030.
A couple of minutes ago, I got this e-mail.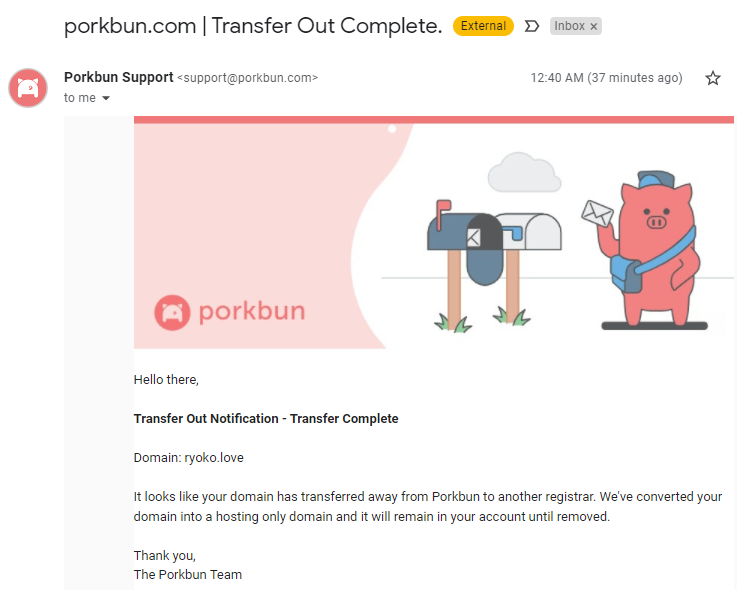 This is it, I thought. It's finally happened to me. Somebody's stolen my fucking domain name.
Because I certainly didn't do this. I just set that shit and forget it. Hell, when I bought it for $10 (that's right: $1 renewals, bay-bee), I decided, feh. A-feh. I won't have to worry about this. And, uh. I didn't even really know what to do with it.
Actually, it wasn't a dollar a renewal. I just looked up the invoice, in case I need to prove that I owned this thing.
Only trouble is, I think this is an error in Porkbun's interface? Or something. No further domains have been 'stolen' from me; and, after sending two e-mails to Porkbun, and reporting a stolen domain to DNProtect (who KNOWS if they're the right people to contact), I decided to do a little tinkering.
I still have access to the domain. As in, I can still control the content that's being displayed on it. Even on a device that has a pretty quick DNS update.
The domains (I have another one) were both 'updated' at 2022-03-31T02:55:55.0Z; so, I'm guessing this is some sort of bizarre error. But, I cannot tell for certain.
All I know is, I love my domains. Hopefully, this isn't Porkbun's fault.
Because, if it's Porkbun? I'll run. I will run. I'll transfer every single domain I care about, out of that account.
I've done it before.
I've seen me do it.
Remember Yahoo! Small Business?
Remember Network Solutions?
Yeah.
This domain name shit is too fuckin' stressful for me, man.
---
UPDATE: I think I know what's going on.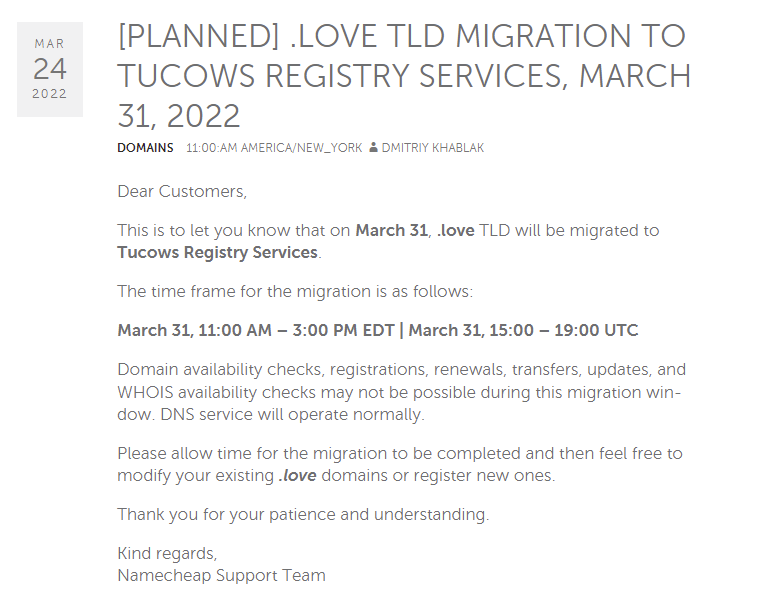 Is this what's going on? Because I just lost icze4r.love.
I hope to fuck that this is what's going on.
---
UPDATE: It's the migration. I got an e-mail from Porkbun that said that's what it is.
However, this entire situation was a great 'dry run' of what to do if your domain gets stolen.
I also got an e-mail back from DNProtect(?). The reply was from somebody at Epik(!), who was SUPER nice.
If you get your domain stolen, look for the Bill Hartzer article on what to do. I followed it to the letter. Link below
https://www.billhartzer.com/domain-names/someone-stole-my-domain-name-heres-what-you-do/
---
UPDATE: ayyyyyy my domain names back :o)
NEVER SCARE ME LIKE THAT AGAIN