When I started this website, I wanted to have a somewhat perfect existence.
Yeah that shit ain't gonna happen. We tried for 36 fuckin' years, maybe even more. Let's work with what we got.
So there's a thing I've fallen into. Google thinks there's a TV show called icze4r.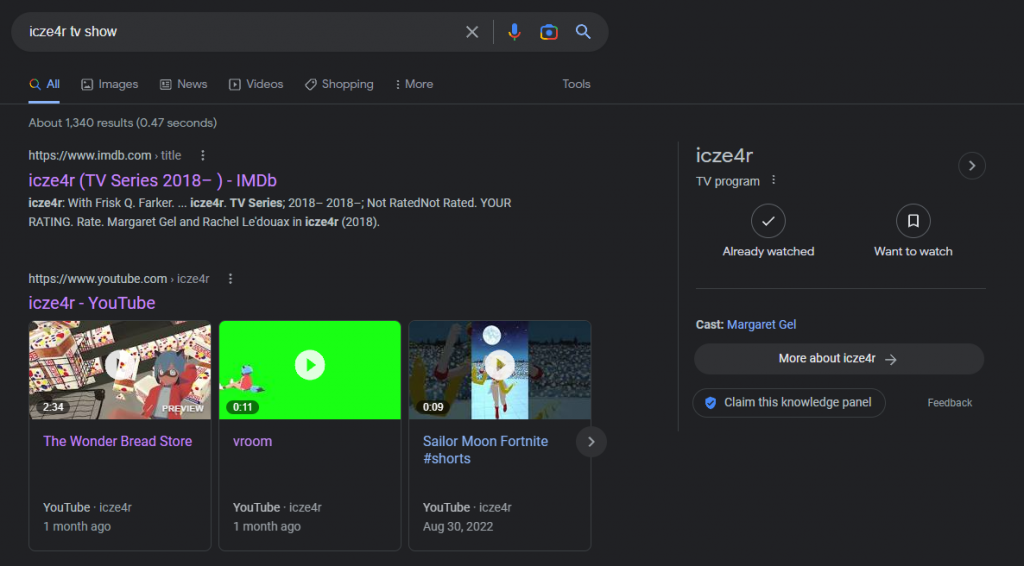 And, by all means, they're not wrong. A while back, when I wanted to create a series on YouTube called 'icze4r', the only thing I could really put it as was 'TV Series'. That's what I saw things put into the database, as; like, with, I think, how people do Podcast episodes on YouTube, or some shit. I thought it was fun. I tried it out.
FOUR YEARS LATER, GOOGLE THINKS THAT IT'S A 'TV PROGRAM'.
Is it wrong?
Not really.
Okay. So this thing was appearing for my name, 'icze4r'. I have applied to be Verified as the owner of that knowledge panel, three times, now. Here's the first message I got. Got this one twice: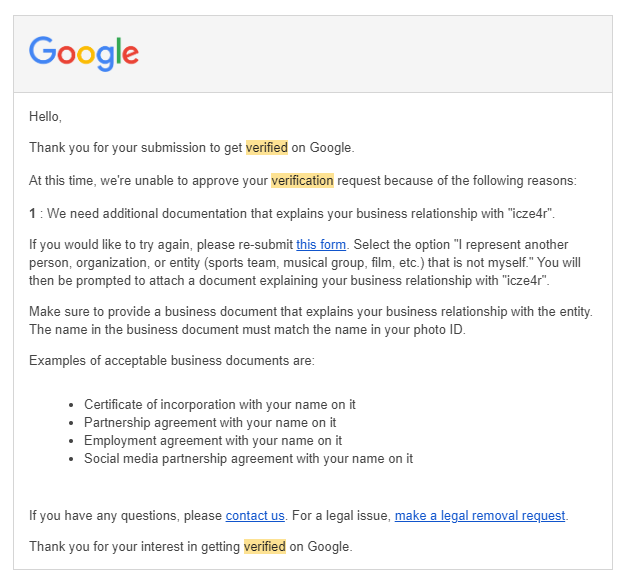 This, of course, it probably due to my legal name not being "Margaret Gel". Given that the U.S. is about to cull my ass because I'm trans, I didn't think it was the greatest idea to try to change my name in the hardest state to do such a thing.
I make no bones about it: Margaret's my chosen name. Amazon, Youtube, Steam, even Twitter and Instagram and Facebook know that my legal name is different. For the longest, Google's been cool about this. I've gotten Verified thrice on Google, using my legal name.
But now, this just won't take.
So let's look at the options.
Certificate of incorporation with my name on it? What, I incorporated a TV show? No. Get fucked.
Partnership agreement? What's that gonna prove? My YouTube partnership agreement? No.
Employment agreement? Okay, sure. Have at it, Daddypants: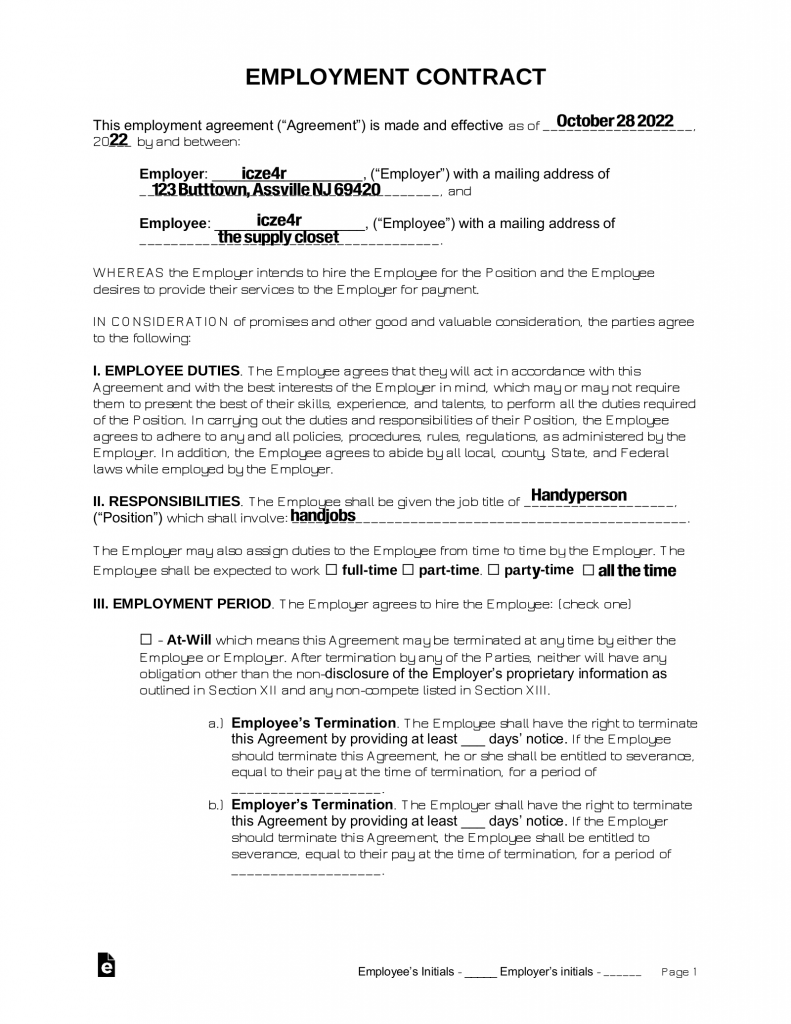 Social media partnership agreement?
Look. I'm gonna be serious here. At least 3/4ths of these, if I provided them, would be tantamount to forgery. I don't know what these things are, and I'm not making them up, in order to do this. It's like when I was trying to get Verified on Facebook and they wanted me to go to a notary, to prove that my chosen name was tied to my legal name. No. Fuck off, jackass. YouTube and Steam have my tax information. You want that? Sure. Anything else, nope-o!
So I tried again. This time, I provided them with the only business document I could think of: a document that legally ties my pseudonym to my legal name. Sounds great, right?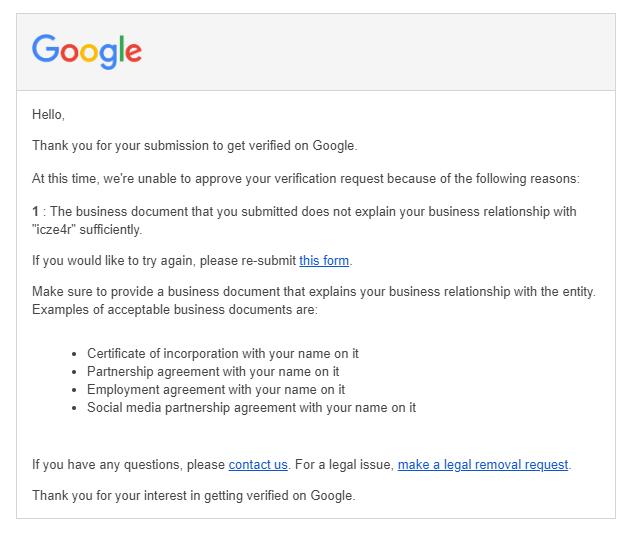 YEAH GET FUCKED NOPE
At this point, while it'd be fun for me to get access to what the fuck this thing is, I can't. I can't.
… see, now I'm thinkin' of somethin'. What if I made up a document, that said, 'yes; I, so-and-so legal name, I have a social media partnership agreement with icze4r'? Isn't that forgery? I'm not going to do it, but I'm sitting here wondering— is that what they want?
If so, why is that more valid than a driver's license?
It's just words on a piece of paper. Why would they accept that?
AUGH THIS VERIFICATION SHIT IS STUPID HUMAN BULLSHIT
SPOTIFY DIDN'T NEED THIS
YOUTUBE DIDN'T NEED THIS
YOU, GOOGLE, DIDN'T EVEN FUCKING NEED THIS BEFORE
WHY DO YOU NEED THIS NOW
HOLY SHIT I'M FUCKING VERIFIED ON YOUTUBE AND YOU HAVE MY GODDAMNED TAX INFORMATION!! YOU COULD JUST LOOK IT UP!! WHAT THE FUCK
I'm 'yelling' because I find it funny. I'm not actually upset.
This, however, is dumb as Hell. And I'm not playin' ball.
i'll play with some balls but nope
---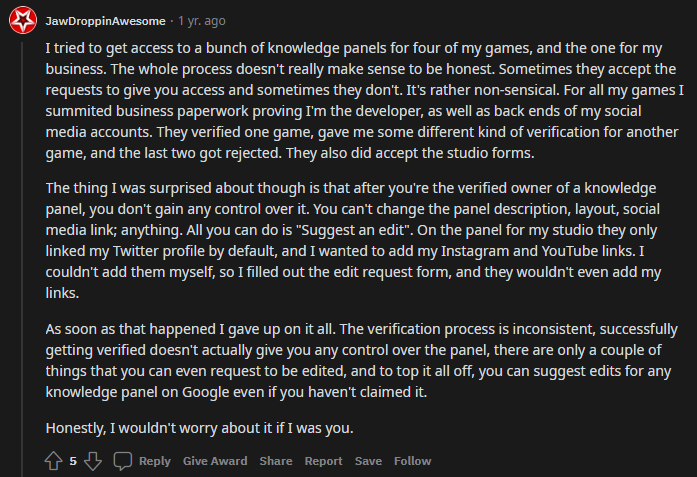 So I tried to look for this really good series of articles that a guy wrote when he couldn't get Verified on Google. Don't know where they are but I found this: https://www.reddit.com/r/gamedev/comments/ozwtmm/trying_to_claim_a_google_knowledge_panel_about_my/
So apparently what Google wants to see, is they want to see business paperwork proving that I'm… the producer… of a TV show?
What the fuck does that even look like. That isn't even in any of the example forms!
What the Hell?
Supposedly people are saying that, to facilitate all of this, I should get an LLC.
Do you want to get an LLC?
I don't. I don't need more legal paperwork comin' out my ass.
Fuck. I'm not getting an LLC to get Verified on a Knowledge Panel I can't even do anything with.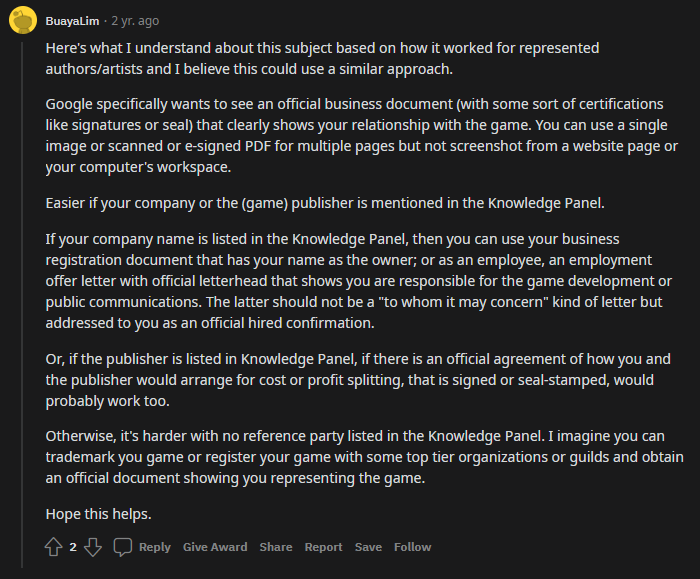 Yeah, fuck this. This sounds like a pain in the ass.
And for no real benefit. Jesus, Google. You gotta have a carrot on the end of that there stick.
This is nonsense. You want me to jump through hoops, just to make your own ersatz Wiki-database system better? No.
---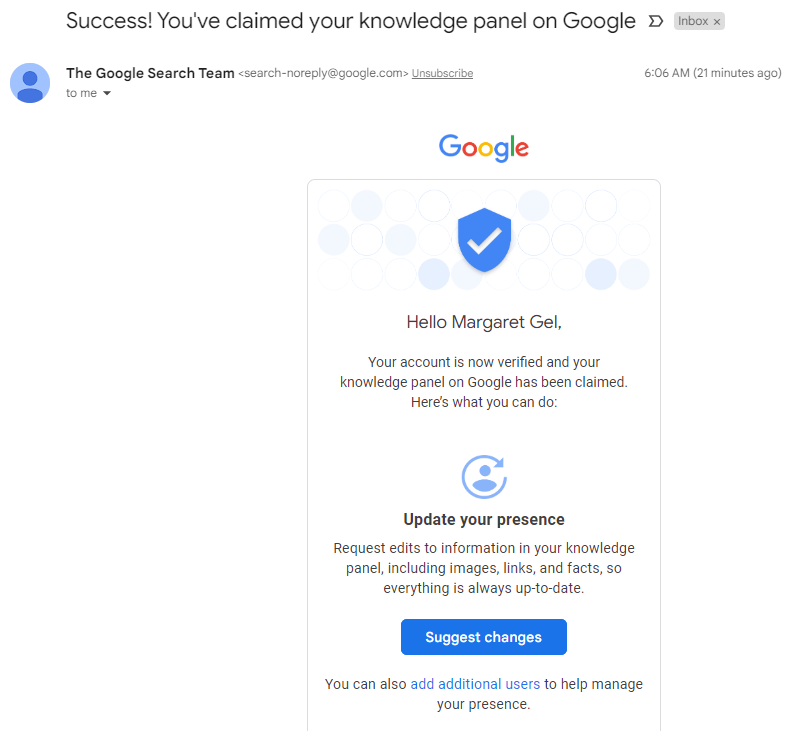 34 MINUTES AFTER COMPLAINING, THEY SENT ME THIS.
YOU'VE GOT TO BE SHITTING ME.
AAAAAAARRRRRRRRGGGGGGGGHHHHHHHH